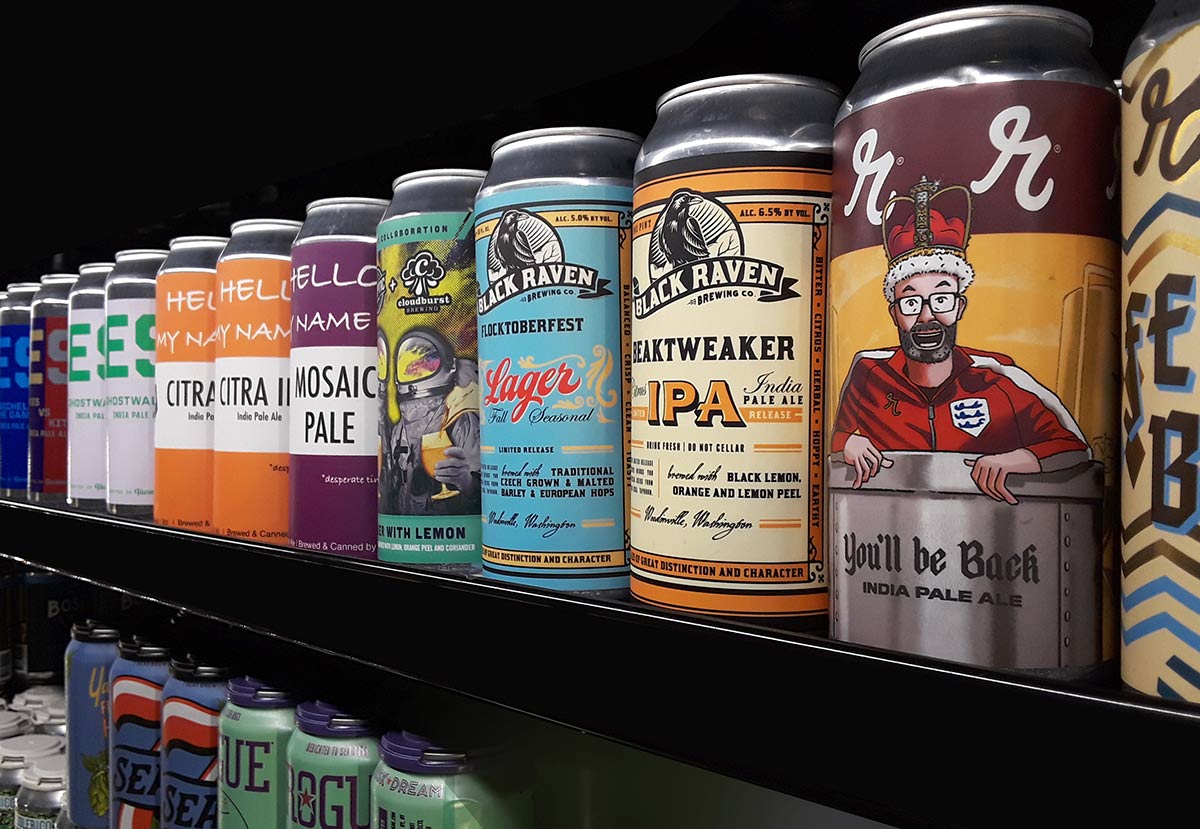 Beer
The craft beer and microbrew movement has exploded over the past few years with an unbelievable quality and range of flavors. The Pacific Northwest is particularly known for its great microbrew and craft beer brewing tradition. We carry a wide variety of local quality-made brews in addition to excellent beers from around the US and the world.
Celebrate each season with a cold one. We make sure to stock seasonal beers so you'll have beer on hand that is appropriate for the time of year, whether it's crisp and pale beer for summertime on the patio, or a dark and earthy one for the short days of winter.
From craft brews to your favorite six-pack, we carry an extensive array of possibilities to quench your beer-loving thirst.
There is a great article about the five elements that go into craft beer styles on craftbeer.com. Read the whole thing if you are a craft beer fan as it's very enlightening, but here's a brief summary of the five elements:
Origin/Region - German-style, Belgian-style, English-style, American-style, Belgo-American
Color - Light/Pale, Amber, Brown, Black
Special Ingredients - Chocolate, Coffee, Fruit, Herb and Spices
Yeast - Ales, Lagers
Vessel/Vintage/Volume - Vessel: Barrel type - Vintage: most beers are meant to be enjoyed fresh but some styles can develop positively when aged - Volume: flavor or strength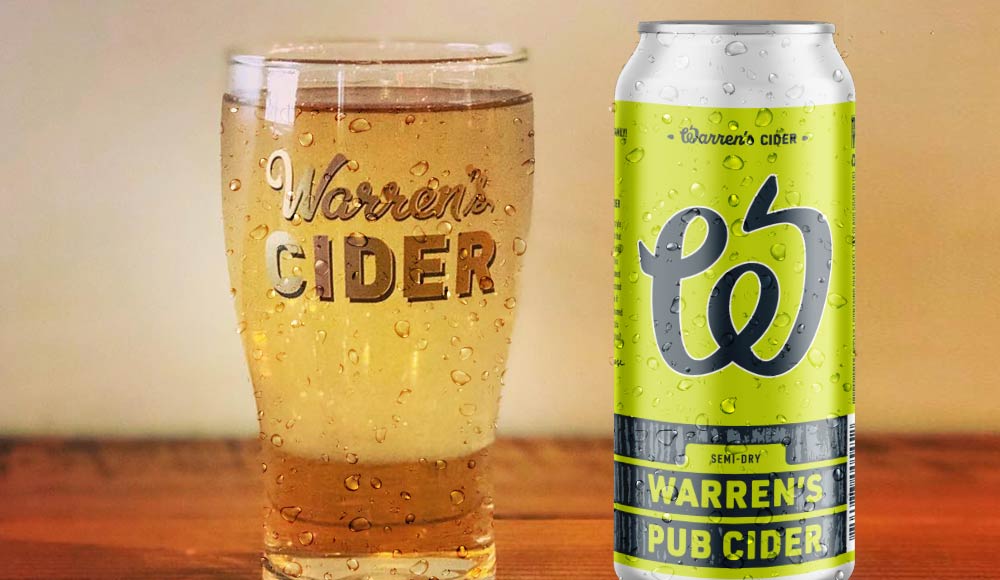 Featured Specialty Adult Beverage of the Season
Warren's pub Cider
from Reuben's Brews, Seattle, WA
Reuben's Brews of Seattle presents Warren's Pub Cider. Their 1st cider offering is a traditional, English style pub cider just like the ones that brewmaster Adam used to enjoy drinking in the United Kingdom. This one is named after Adam's first son, Warren, so you know it has to be a stand-out cider. It is a drinkable, refreshing cider, balanced, semi-dry, not bone dry and still tastes proudly of Washington State apples. Don't miss this one!
6% ABV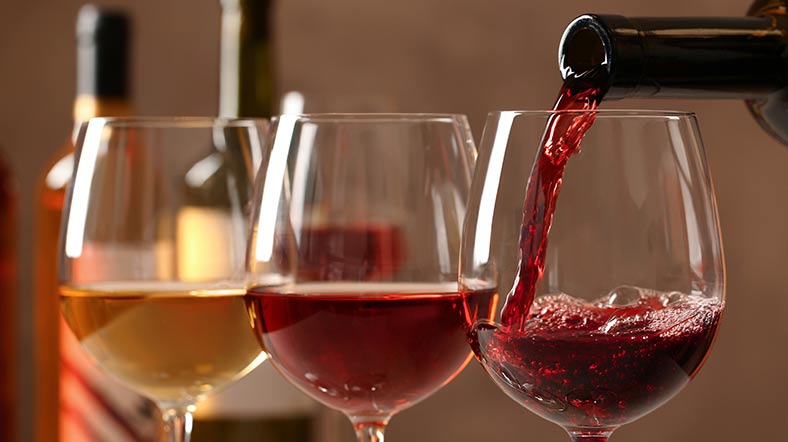 Wine
Ken's Market features not only fruit, but also the "fruit of the vine" from the US and countries all around the world. You won't believe our substantial and diverse wine selection for this size store! Discover our global variety of wines from Australia, Argentina, France, Italy, New Zealand, Spain and more. We also stock a nice selection of domestic wines with many from Washington and California. The possibilities can become overwhelming, so ask our knowledgeable and experienced staff for help with wine and food pairing to take your meal from ordinary to extraordinary.
When buying for a large group or event, you receive 10% off a full case (12 bottles) of wine. Check out our chilled wine when you are buying at the last minute and need your wine ready to drink.
Champagne & Sparkling Wines
"What did Dom Perignon say to fellow monks after he invented champagne? ... Come quickly, I am tasting the stars."
- John Green, The Fault in Our Stars
Champagne has always been a luxury chosen for celebration and as one of the finer things in life, for the pursuit of pleasure and a little self-indulgence. Nothing adds sparkle to the holidays like a bottle of celestial, exquisitely effervescent champagne or prosecco or luscious, bright, and bubbly sparkling wine.
Sparkling wines are for all seasons and all reasons. Brighten any family celebration including weddings, baptisms, graduations or retirements. Elevate any meal, whether it is with family or good friends. Drink champagne when you're in love or not, in victory or defeat and our favorite reason, "just because!"
Ken's Market Queen Anne understands our customers want quality and value and we try to provide a variety of champagnes and sparkling wines from Spain, Italy, Australia and France where it all began. We are also delighted to offer domestic sparkling wine from Oregon, California, and Domaine Ste. Michelle from our own State of Washington.
We carry a large variety of different sparkling wines and champagnes to choose from, as well as a knowledgeable staff on hand to help you find just the right one. Call ahead and we'll have it chilled for you!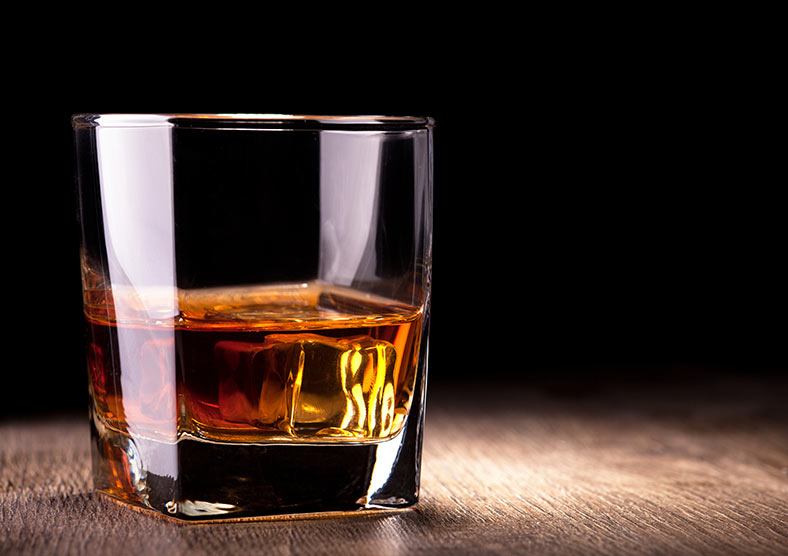 Spirits
At Ken's Market Queen Anne, we strive to carry a comprehensive array of excellent liquor brands and high-end spirits. You'll find the distilled spirits needed for all tastes and occasions: vodka, whiskey, tequila, gin, bourbon, liqueurs, rum and scotch. We feature Northwest distilled liquor whenever possible, such as Woodinville Whiskey.
To complement these spirits, we carry a thorough selection of mixers and supplies: bloody mary and margarita mix, a variety of tonics and ginger ale, plus bar tools and accessories. Don't forget we have mint, basil, oranges, lemons and limes in our produce section. We've got all the ingredients that can help any amateur or professional mixologist create a cocktail masterpiece!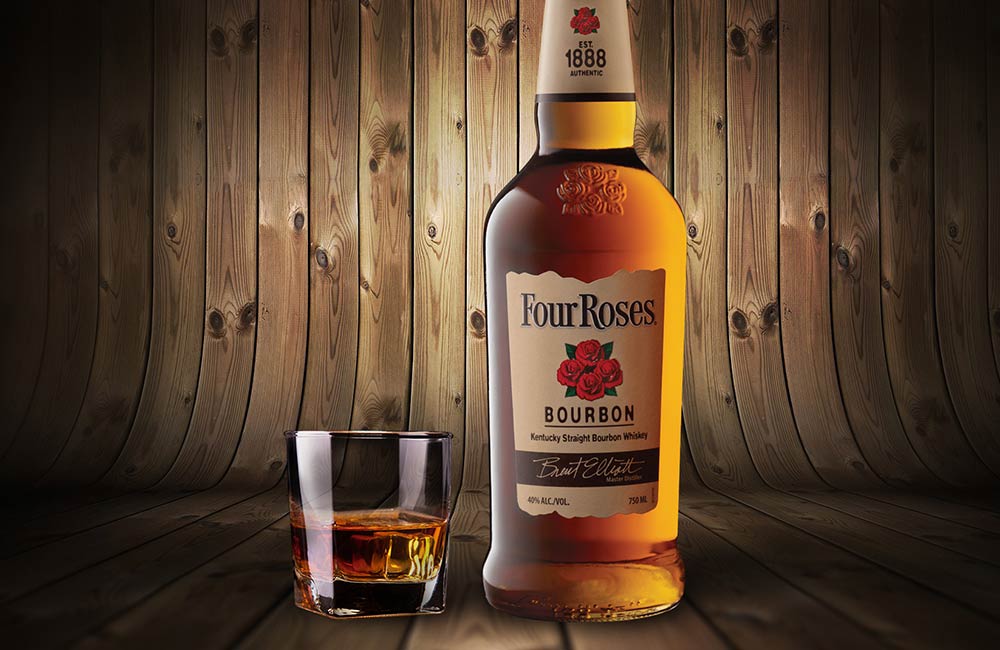 Featured Liquor of the Season
Four Roses Bourbon
from Four Roses Distillery, Lawrenceburg, KY
THE LEGEND
It began when Paul Jones, Jr., the founder of Four Roses Bourbon, became smitten by the beauty of a Southern belle. It is said that he sent a proposal to her, and she replied that if her answer were "Yes," she would wear a corsage of roses on her gown to the upcoming grand ball.
Paul Jones waited for her answer excitedly on that night of the grand ball… when she arrived in her beautiful gown, she wore a corsage of four red roses. He later named his bourbon "Four Roses" as a symbol of his devout passion for the lovely belle, a passion he thereafter transferred to making his beloved Four Roses Bourbon.
THE CRAFT
Four Roses is the only distillery that combines 5 proprietary yeast strains with 2 different Mashbills (the grain recipes with specific percentages of corn, rye, and barley) to hand craft 10 distinct Bourbon recipes, each with it's own unique spiciness, rich fruity flavors and character. Each yeast strain is put through a 3-stage fermentation process. The yeast is finally pumped into fermentors along with freshly cooked mash (corn, rye & barley) where starches are converted to sugars.
After 3 days, fermentation is complete, creating a "Distiller's Beer". The D.B. is converted into vapor, later converting back to liquid, thus concentrating the alcohol (about 138-140 proof) and flavoring components. It's checked for quality & consistency and then finally transferred into retention tanks where water is added to reduce the proof to 120. Charred oak barrels are filled with the young bourbon and sealed for at least 5 years to develop the woody flavors, sweet vanilla and toffee notes.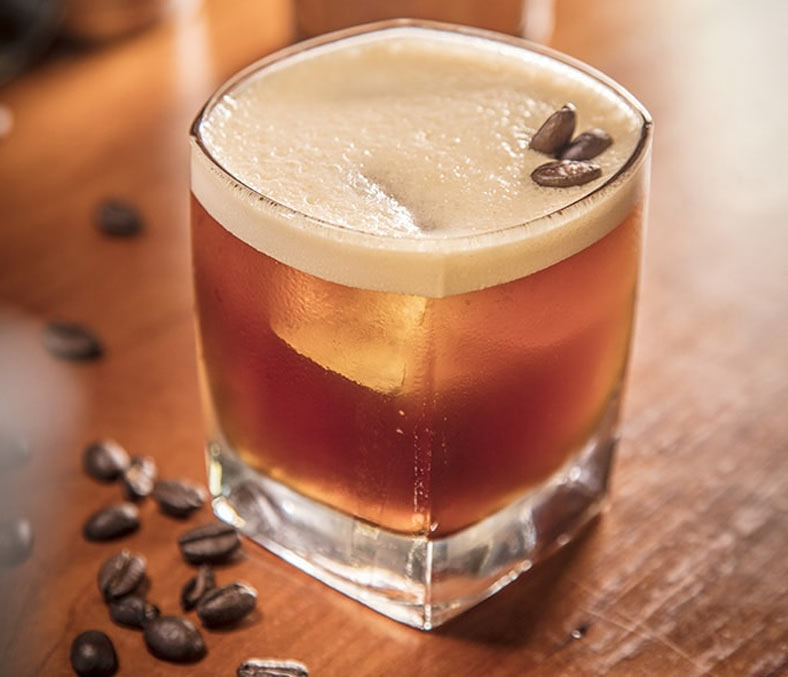 Cocktail Recipe - BOURBON ESPRESSO
Wake up your palate for the evening with a bold, rich burst of coffee-flavored energy.
Featuring Four Roses Bourbon
INGREDIENTS
1-1/2 fl oz Four Roses Bourbon
3/4 fl oz Coffee Liqueur
1 shot Espresso
DIRECTIONS
Pour the Bourbon, coffee liqueur and espresso into a shaker and shake hard with ice. Strain the drink into chilled martini glass and balance 3 espresso coffee beans on the foam to garnish. (Option: add 1/4 oz. Simple Syrup or sugar for sweetness if desired)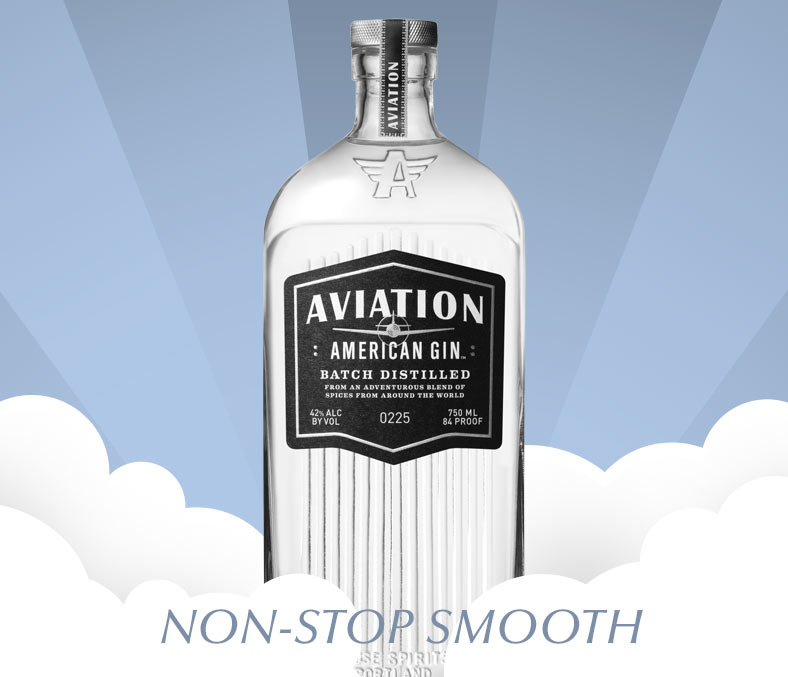 Featured Liquor of the Season
Aviation American Gin
from Aviation American Gin, Portland, OR
Aviation Gin was first produced in Portland, Oregon, by founders Christian Krogstad and Ryan Magarian in 2006. It is referred to as an "American dry gin", meaning the taste profile is less strongly juniper flavored than some other gins.
Created to change the way people think about gin, Aviation American Gin is made in the traditional dry style with anything but a traditional flavor profile. It explores the rich, floral and savory notes of lavender, cardamom, and sarsaparilla to capture the lushness, spice, creativity, and freshness of the Pacific Northwest. This harmonious blend allows the craft spirit to shine on its own as well as when mixed in vintage drinks or contemporary culinary cocktails.
Distilling Process
Like the world's finest gins, Aviation is distilled using a proprietary maceration recipe that produces a pure medley of botanical flavor. And, it all starts with their precise infusion of botanicals, cardamon, coriander, French lavender, anise seed, sarsaparilla, juniper, and two kinds of orange peel.
The botanicals are suspended in pure, neutral grain spirit for 18 hours in macerating tanks. Then it is pumped into a still with pure water. Steam heats it and vapors condense, then the vapors are cooled to form the gin distillate.
The 3rd step is more complex and most important. In a meticulously monitored process, the 1st fluid leaving the still, the "heads" is removed. Then they collect the "heart of the spirit" throughout the run. This is the end of the cycle and the final cut, "the tails" is made which takes approximately 7 hours. At this point, the "heart cut" is 142 proof. The "heart cut" is transferred to blending tank where pure water is added to bring the gin to the desired 84 proof.
Wine Enthusiast magazine awarded Aviation American Gin a 97-point rating in 2012, the highest rating the magazine has given to any gin!
"I've tried every gin on the planet and Aviation is, hands down, the best. Also, I don't recommend trying every gin on the planet. Stick with this one."
- Ryan Reynolds, Owner, Aviation American Gin
---